Resources for Mental Health, Financial Crisis, and Food Insecurity
Mental Health Resources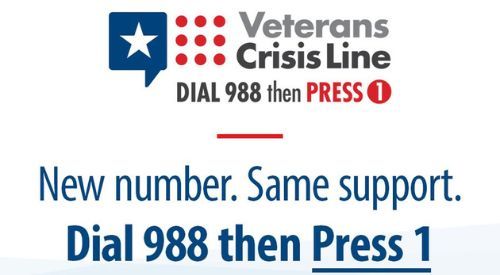 Veterans Crisis Line
Whether you are a Veteran, a caregiver, a family member or a friend, the Department of Veterans Affairs wants you to know you are not alone. In times of crisis, suicidal thoughts or concern, it is essential to get help.
By dialing "988" and then pressing "1", you can reach a trained professional from the Veterans Crisis Line (VCL). You could also text "838255" or chat online at veteranscrisisline.net/chat if you prefer.
Vets4Warriors
Vets4Warriors is a national 24/7-peer support network for veteran and military communities 100% staffed by trained veterans and members of the military community, their families or caregivers.
Call 1-855-838-8255 to connect with a peer-support specialist or visit https://www.vets4warriors.com/ 
Rutgers Counseling Services
Counseling services are offered through Counseling, Alcohol and Other Drug Assistance Program & Psychiatric Services (CAPS), our university mental health support service. 
Visit http://health.rutgers.edu/medical-counseling-services/counseling/ for more information.
Financial Crisis Resources
The Office of the Dean of Students – Student Support, Rutgers New-Brunswick
The Office of the Dean of Students – Student Support assists students experiencing unexpected challenges which impact academic performance, time to degree completion, finances, and their overall student experience.
Visit Dean of Students - Student Support (Office of) | Success (rutgers.edu) for virtual drop-in hours or to schedule an appointment.
Scholarships  
Rutgers University offers a range of merit-based scholarships and need-based programs to help qualifying students fund their education. Visit https://admissions.rutgers.edu/costs-and-aid/scholarships for more information.
Loans and Grants
The Office of Veteran and Military Programs and Services Emergency Scholarship Fund can provide emergency assistance to military affiliated students who are faced with an unexpected financial crisis.  Please contact the Office of Veteran and Military Programs and Services for more information at veterans@echo.rutgers.edu or at 848-932-VETS (8387).
Rutgers-Camden Office of Military & Veteran Affairs (OMVA) has an emergency fund available for military affiliated students enrolled in Camden. Please contact Fred Davis, Campus Director for more information at frdavis@camden.rutgers.edu or at 856-225-2791.
Rutgers-Newark Office of Veteran Affairs provides comprehensive support and services for our military service members, veterans, and their dependents. Visit Resources for Veterans | Rutgers MyRun for more information or email Paul Lazaro, Campus Director at lazaro.paul@rutgers.edu.
Food Insecurity Resources
Food Pantries
Rutgers-New Brunswick – Rutgers Student Food Pantry
College Ave Student Center, Room 115
126 College Ave, New Brunswick, NJ 08901
and via mobile food pantry, by appointment
Phone: 848.932.5500
ruoffcampus@echo.rutgers.edu
Visit their website for hours of operation
Rutgers-Newark – The PantryRUN
Paul Robeson Campus Center, Room 226
350 Dr. Martin Luther King, Jr. Boulevard
Newark, NJ 07102
973-353-0256
Visit their website for hours of operation
Rutgers-Camden - RU-Camden Raptor Pantry
Student Wellness Center
2nd Floor of Campus Center
326 Penn St.
Camden, NJ 08102
856-225-6005
Visit their website for hours of operation